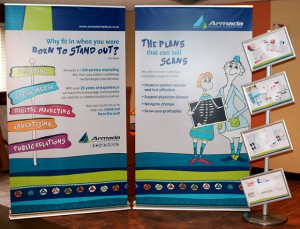 Spring at Armada means we are gearing up for some of the annual industry conferences at which we attend or exhibit. Our preparations for these conferences had all of us asking, "If we were our own client, what marketing recommendations would we give?" And, then a funny thing happened. A quote from Dr. Seuss found its way into our brainstorming meeting and took hold. Or, to put it in Dr. Seuss terms, we "Thought left and thought right and thought low and thought high. Oh, the thinks you can think up if you only try."
The question of, "Why fit in when you were born to stand out?" inspired us to design a new marketing campaign for our agency. Using the genius and simplicity that Dr. Seuss's words and characters embody, we decided to creatively position our brand and have a little fun while doing it. Once we nailed down the central theme, our art director got busy creating original Dr. Seuss-inspired characters. Sketches of those characters then became the basis of a new trade show booth we designed, complete with a very Seuss-ical banner display that lets passersby know at a glance that Armada's core competencies are branding, social media, digital marketing, advertising and public relations.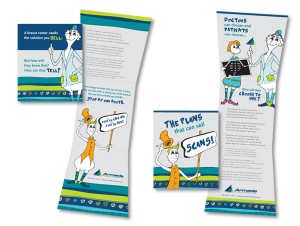 To support our new trade show booth, we designed two different pre-show mailers using our original Dr. Seuss-themed artwork and Dr. Seuss-esque language. We also designed posters that serve as tabletop displays of work from our portfolio. The tabletop posters use the same color scheme as the new trade show booth and the Dr. Seuss-like font for an overall coordinated look. We chose teal and lime green as the primary colors on all of the marketing collateral we created to reflect Armada's new, more modern visual branding launched at the beginning of the year. We have even committed to making our clothes tie-in with the Dr. Seuss theme. What can we say? When we commit, we commit!
We like this approach to marketing ourselves because it is different. It's eye catching and engages the audience with humor. And, just like Dr. Seuss, meaningful and serious messages are delivered. But in a way that's creative enough to garner our brand top-of-mind awareness. Or, to quote the poet yet again whose famous words and images have been captivating people for generations, "And will you succeed? Yes! You will, indeed! (98 and ¾ percent guaranteed)."