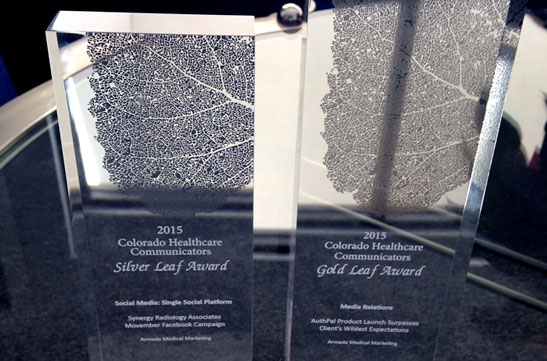 Armada Medical Marketing is honored to have been awarded a prestigious Gold Leaf and Silver Leaf Award from the 2015 Colorado Healthcare Communicators Gold Leaf Awards. The Armada team earned the Gold Leaf Award in the media relations category for media coverage secured in key outlets for the product launch of FORE Support Services' AuthPal cloud-based prior authorization software for radiology practices.
Armada crafted a press release to announce the launch of this first-of-its-kind product and then used our extensive relationships within the radiology, and health care IT, and revenue cycle management space to secure coverage of the product's launch at the 2015 Radiology Business Management Association's Radiology Business Summit in Las Vegas this past June.
Judges' comments on this powerful campaign included: "This product launch is a flawless new product launch media relations effort. It combines pre- and post-event communications and content creation to create a community of interest and actual product inquiries," "Thoughtful and strategic messaging incorporated for each of the (campaign) phases and media channels," and "…the validated responses, robust media coverage and engagement with the target market was a phenomenal achievement."
We're also very excited to have won a Silver Leaf Award in the single platform social media category for a Movember fundraising and men's health awareness campaign we orchestrated for Synergy Radiology Associates last November. Armada recommended that Synergy conduct a Facebook fundraising campaign supporting the Movember USA Foundation, which raises awareness and research funds for prostate and testicular cancer by encouraging men to grow a moustache throughout the month of November. The growing moustache acts as a visual conversation starter and reminder about the importance of men's health issues.
Six Synergy radiologists started the month clean-shaven and then sent in weekly photos of their moustache's progress, which were shared on Synergy's Facebook page. Fans of Synergy's page voted for their favorites by clicking the like button. For every like a photo got, Synergy donated a dollar to the Movember USA Foundation, raising a total of $1,000. The campaign also increased Synergy's social media fan base by attracting nearly 400 people to like and follow the radiology group's Facebook page and engage in meaningful conversations about men's health.
Judges' comments included: "Great results on a single medium," and "This is a great campaign and great use of a single platform for a B2B audience."
Thanks to Colorado Healthcare Communicators for putting on another great event, and congratulations to all of this year's award winners!