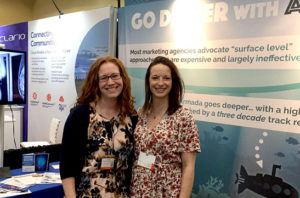 Once again, the team at Armada exhibited at the annual Radiology Business Management Association PaRADigm conference… this time in our home state of Colorado!
The exhibit revealed our new "Go Deeper" theme, which shows how more comprehensive and meaningful marketing communication with healthcare professionals is more cost-effective and yields better results than "surface level" branding approaches. And how making better use of the resources practices already have—like waiting rooms, physician reps and current patients—can move the needle with measurable results.
We also showcased our new Radiology TV appliance, now capable of the remote updating of video content. Radiology TV educates and cross promotes various services to patients in imaging center waiting rooms.
Thanks to all those who stopped by to visit with us this year!