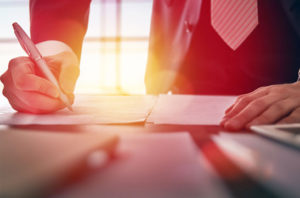 On his first day in office, President Donald Trump signed an executive order instructing federal agencies to minimize the burden of the Affordable Care Act, pending congressional repeal. According to the language, it is intended to "minimize the unwarranted and regulatory burdens of the Act, and prepare to afford the States more flexibility and control to create a more free and open healthcare market."
Executive orders that impact the healthcare industry are not new, although the majority of them have been issued during the last three administrations. Some have become famous, such as President Reagan's executive order in 1987 that led to the President's Commission on the Human Immunodeficiency Virus Epidemic, and which officially recommended "HIV infection" as appropriate to replace the obsolete term "AIDS."
Some executive orders have had a significant impact on healthcare providers and researchers, perhaps even more so than the general public. A few noteworthy examples include:
On May 19, 1992, President George H.W. Bush signed executive order 12806 that established a human fetal tissue bank to be administered by the Department of Health and Human Services. It is believed that fetal stem cell research is critical to developing therapies for diseases such as Parkinson's, diabetes and certain inherited disorders. It was also assumed that the bank would eliminate the "medico-ethical tangle" by making fetal tissue available to researchers from a "non-controversial" source, according to Dr. James Mason, HHS Assistant Secretary of Health at the time.
President William Clinton's March 7, 2000, executive order established a White House Commission on Complementary and Alternative Medicine Policy. The commission's mandate was "to develop legislative and administrative recommendations that would help public policy maximize potential benefits, to consumers and American health care, of complementary and alternative medicine (CAM) therapies – chiropractic, acupuncture, massage, herbs, and nutritional and mind-body therapies, as well as a host of other approaches." This executive order helped pave the way for insurance coverage of CAM therapies, as well as to help legitimize such therapies throughout the greater healthcare establishment.
Another executive order signed by Clinton in September 1996 established an Advisory Commission on Consumer Protection and Quality in the Health Care Industry. This led to the now-famous "consumer bill of rights" concerning health care. Basic tenets of the health care bill of rights include information disclosure, choice of providers and plans, access to emergency services, participation in treatment decisions and confidentiality of health information.
On September 18, 2014, President Barack Obama signed an executive order entitled Combating Antibiotic-Resistant Bacteria. Considered to be one of the greatest healthcare concerns of the modern era, antibiotic-resistant bacteria renders antibiotic drugs obsolete in a short period of time. This executive order lead to the development of a National Action Plan for Combating Antibiotic-Resistant Bacteria. The plan called for the enhancement of domestic and international capacity to prevent and contain outbreaks of antibiotic-resistant infections, maintain the efficacy of current and new antibiotics and a call to develop and deploy next-generation diagnostics, antibiotics, vaccines and other therapeutics.
Looking back at the past several administrations, it is clear that executive action has been used as a tool for broadly impacting healthcare in the U.S. While President Trump's Affordable Care Act executive order has no immediate statutory effect, it clears the way for legislative action on the sale of health insurance policies across state lines and for the elimination of the individual mandate, one of the act's most unpopular tenets.
---
Healthcare-related executive orders since 1980 include:
July 30, 2015 – Implementing the National HIV/AIDS Strategy for the United States for 2015–2020
September 18, 2014 – Combating Antibiotic-Resistant Bacteria
July 15, 2013 – HIV Care Continuum Initiative
August 31, 2012 – Improving Access to Mental Health Services for Veterans, Service Members and Military Families
October 31, 2011 – Reducing Prescription Drug Shortages
March 24, 2010 – Patient Protection and Affordable Care Act's Consistency with Longstanding Restrictions on the Use of Federal Funds for Abortion
December 30, 2009 – Medical Countermeasures Following a Biological Attack
April 8, 2009 – Establishing the White House Office Of Health Reform
March 6, 2007 – Establishing a Commission on Care for America's Returning Wounded Warriors and a Task Force on Returning Global War on Terror Heroes
January 13, 2006 – Designating the Global Fund to Fight Aids, Tuberculosis and Malaria as a Public International Organization Entitled to Enjoy Certain Privileges, Exemptions, and Immunities
May 28, 2001 – President's Task Force to Improve Health Care Delivery for Our Nation's Veterans
May 10, 2000 – Access to HIV/AIDS Pharmaceuticals and Medical Technologies
March 7, 2000 – White House Commission on Complementary and Alternative Medicine Policy
September 5, 1996 – Advisory Commission on Consumer Protection and Quality in the Health Care Industry
June 14, 1995 – Presidential Advisory Council on HIV/AIDS
May 26, 1995 – Presidential Advisory Committee on Gulf War Veterans' Illnesses
January 15, 1994 – Advisory Committee on Human Radiation Experiments
May 19, 1992 – Establishment of a Fetal Tissue Bank
November 13, 1989 – Establishment of the President's Drug Advisory Council
June 24, 1987 and July 16, 1987 – Presidential Commission on the Human Immunodeficiency Virus Epidemic
September 15, 1986 – Drug-Free Federal Workplace
December 22, 1983 – Revised list of quarantinable communicable diseases